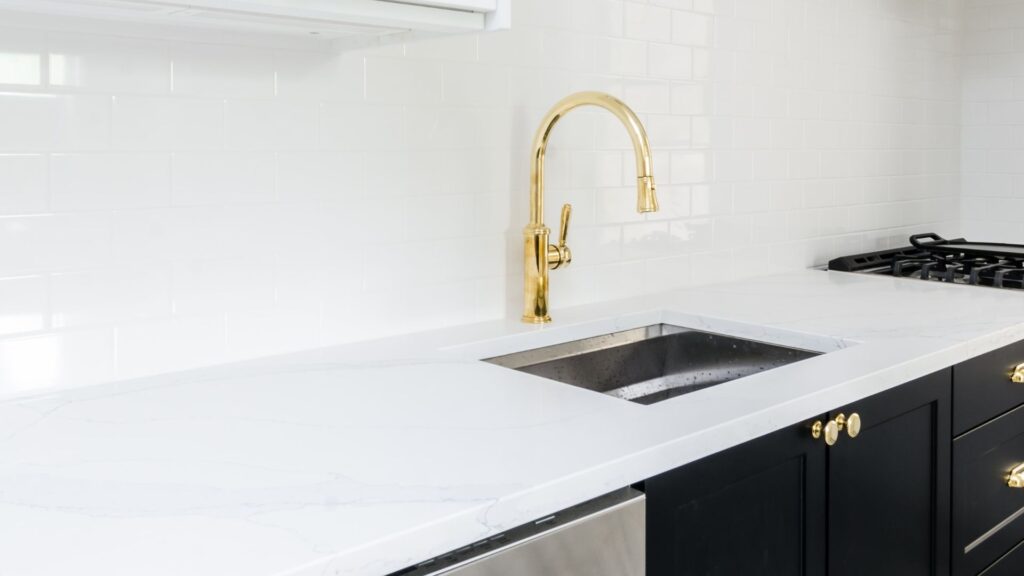 What kind of countertops should I clean? How often should I clean my kitchen counters? Should I use vinegar or baking soda?
Countertops are usually very busy places where food gets prepared and served. They also get dirty easily because they are exposed to spills from cooking, cleaning, and other activities.
If you want to get the most out of your kitchen, then you need to take care of its surfaces. The surface area of your counters is where food preparation takes place, so they need to be kept spotless at all times.
In this blog, we will discuss how to clean every type of countertop in your home.
The Different Types Of Countertops And How To Clean Them
Counters come in many different types, shapes, sizes, materials, and finishes. But of course, the most obvious ones are seen as kitchen countertops.
Marble Countertop
Cleaning marble countertops can be a little tricky. You don't want to damage them by using harsh chemicals that could stain them.
You can use warm water with mild soap and a sponge to clean your marble countertops. If you have any stubborn stains on your marble countertops, you can try rubbing them with a soft cloth dipped in white vinegar.
Quartz Countertop
Cleaning quartz countertops is similar to cleaning marble ones. However, you should avoid using too much pressure when scrubbing it. This can scratch the surface of your quartz countertops.
Use a damp cloth to wipe away dirt and grime. You can also use a mixturedish shoap and 2 cups of hot water to clean your quartz countertops. Make sure not to leave the solution for more than 30 minutes as it may cause discoloration.
Wooden Countertop
Cleaning wooden countertops are easy if you know what products to use. For example, you can use a mixture of equal parts of dishwashing liquid and water to clean your wooden countertops.
However, you should never put wood polish on your wooden countertops as it may cause staining. Instead, you can apply a coat of clear wax once a month to keep your wooden countertops looking new.
Backsplash Tile
Tile backsplashes are one of the hardest types of countertops to clean. It is important to make sure that you do not use abrasive cleaners such as scouring pads or steel wool. These materials can damage tile backsplashes.
Instead, you can use a wet mop to clean your tile backsplash. Use a mild detergent and a soft brush to remove dust and debris.
Granite Countertop
To clean granite countertops, you can use a combination of warm water and mild soap. You can also use an old toothbrush to gently scrub away dirt and grime from your granite countertops.
Do not use anything abrasive like sandpaper or steel wool. Granite countertops are extremely durable, but they can still chip and crack over time.
It is important to protect your granite countertops from scratches and chips. You can buy a special protective coating for your granite countertops. Just follow the instructions carefully.
Butcher Block Countertops
Butcher block countertops are made of natural stone. Therefore, they are naturally resistant to wear and tear.
You can use a damp rag to wipe away dirt and grease. You can also use baking soda mixed with water to clean your butcher block countertops.
Laminate Countertop
Laminate countertops are made of plastic material. They are relatively inexpensive and easy to maintain.
You can use soapy water to clean laminate countertops. Avoid using strong chemicals as these will damage the finish of your laminate countertops.
If you need to get rid of stubborn stains on your laminate countertops, you can rub them with a soft cloth soaked in white vinegar.
Stainless Steel Countertop
Stainless steel countertops are very durable. They are also easy to clean.
You can use warm water with mild soap to clean stainless steel countertops. Do not use harsh chemicals as this could ruin the finish of your stainless steel countertops.
You can also use a mixture made up of equal parts of dishwashing liquid and water to clean stainless steel countertops.
Porcelain Tiles
Porcelain tiles are usually used in bathrooms and kitchens. However, they are also popular in other areas of the home including living rooms, bedrooms, and hallways. Thus, it can also be used in countertops
You can use any type of cleaning product to clean porcelain tiles. A damp cloth works well to remove dust and dirt. If you have a lot of buildups, you can use a sponge to soak up excess moisture.
Use a mild cleaner if you want to avoid scratching your porcelain tiles.
Ceramic Tile Countertops
Ceramic tile countertops are a great choice for kitchen and bathroom counters. They come in many different colors and patterns.
Use a damp cloth to clean ceramic tile countertops. The best way to clean ceramic tile countertops is to use a damp cloth and mild detergent.
Check First Before Start Cleaning
While the tips mentioned above are one of the best ways to deal with cleaning the countertops. On the other hand, there are some things that should be considered before starting cleaning.
First, assess first what type of cleaning should be done. Some surfaces require more aggressive methods while others may only need simple wiping.
Second, know which type of surface you are dealing with. There are countertop cleaners that are not for all types of surfaces. For example, granite countertops cannot be cleaned by rubbing alcohol.
Third, if you want a thorough cleaning of your countertops, you should hire professional help. This is because professionals have the right tools and equipment needed to do the job properly. Additionally, not only the countertops will be cleaned but also the surrounding area.
Need A Professional To Clean Your House?
My Marvelous Maids is a house cleaning service company based in Chicago, Illinois, and its surrounding areas. We offer house cleaning services at affordable rates. Our maids are trained and experienced to provide quality cleaning services. Contact us today!