Are you looking for ways to spruce up the looks of your home? Are you unhappy with the appearance of your walls but it's not time to repaint them yet? Then you must be very careful when choosing the right cleaning method so that you don't make things worse by damaging the paint.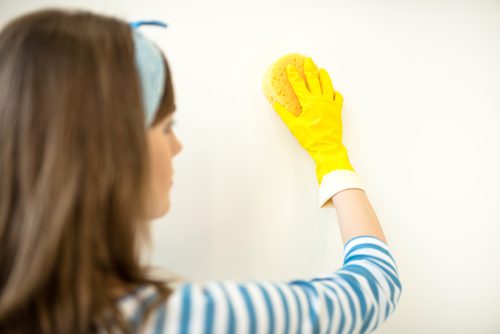 Learn how you should clean your painted walls so that all traces of staining and debris are removed quickly and efficiently. Or, reach out to first-class Aurora maid services to help you out with household maintenance, including wall cleaning. This way, your walls won't need a new coat of paint any time soon! They'll look as polished as if they were freshly painted.
What is the best thing to use to clean painted walls?
Dirty walls often require a pick-me-up to stay looking pristine. You don't want walls to turn dull and grayed instead of their bright original color. However, when it comes to wall cleaning, a common question is whether this will destroy their paint. Find out how to do it properly, with minimum effort and superb results. It's important to steer clear of strong chemicals because they're the ones that will ruin your wall paint.
Mix warm water with a few drops of dishwashing detergent in a bucket. Dishwashing agents are mild enough to be used for wall cleaning.
Next, soak a sponge or cloth in the mixture and wring it well. Avoid using abrasive sponges.
Now you're ready to wipe the staining off the wall. Go up and down on the dirty parts of the wall.
If there's some soap residue on the wall, clean it with a cloth soaked in clean water.
Let the damp spots air dry while you spend quality time with your kids at Blackberry Farm.
Now, you can marvel at your perfectly cleaned walls! If your bathroom is next on your to-do list, check out tips to clean your bathroom tiles well.
Can you use bleach to clean walls?
Sodium hypochlorite, also known as household bleach, is a common staple of every home. It is a powerful chemical that is used as a disinfectant to fight germs and mold, as well as to bleach white materials. If you'd like to use it for wall cleaning, be careful and use it sparingly to achieve maximum safety.
Stay safe by wearing protective gloves because bleach could be harsh to your hands.
Don't apply undiluted bleach to the wall because it is sure to destroy the paint. Mix it with water 1:3.
Put the mixture of water and bleach in a spray bottle that is perfect for wall application.
Spray the mixture on the wall and let it sit for 15 minutes.
Rinse it with a damp cloth.
Help the drying process by turning on the heating or dehumidifier.
Will bleach damage paint?
Bleach is caustic and highly powerful, so it requires caution. So, no matter how dirty your walls might be, don't even think about applying this chemical onto your walls without adding water. When you use this gentler, diluted version properly, your walls will be safe and clean.
Where to get the best Aurora maid services?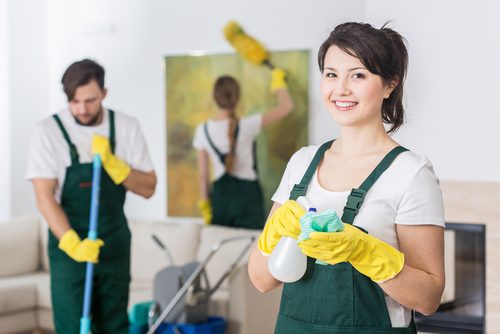 Now, there's no need to go through the hassle of wall cleaning on your own! Call My Marvelous Maids and we'll match you with the leading experts in house hygiene. We work with a team of trained, experienced and dedicated individuals who have a perfect reputation in the neighborhood.
No more worries about how often to clean the house or how to properly clean items made of wood – just leave it to your reliable cleaning crew, sit back and relax!