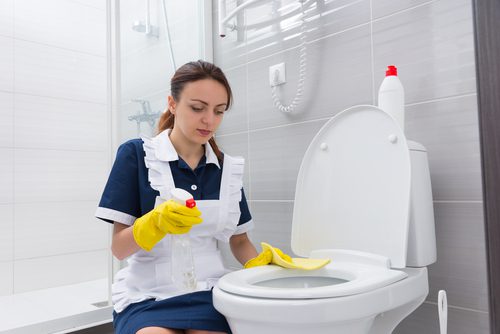 When it comes to cleaning, bathrooms are the places where most homeowners find themselves toiling away the hardest. There are many areas in a bathroom that need careful attention, from tile grout to shower taps. They want their toilets sparkling clean and odorless as possible.
However, germs tend to accumulate in this room of the house very quickly, which can be harmful to the health of your family. So, it's no wonder you may be looking for dependable and time-saving ways to keep your toilet bowl pristine with minimum effort.
Fortunately, you can find the best advice on sanitizing your toilet quickly and easily. If all else fails, first-rate pros in house cleaning services in Lisle will take the work off your hands. Expert house cleaning is worth every penny because your home will shine like never before, with zero effort on your part!
How often do you need to clean your toilet?
It's widely known that thoroughly disinfected proper sanitation facilities are a necessary condition for good health. Generally, wiping down the tiles, scrubbing the shower and the sink, and other tasks that make up regular bathroom maintenance are best done at least once a week. Of course, take into account the number of people using the bathroom. You will need to clean more often if your family is bigger.
When it comes to cleaning the toilet, it should be dealt with even more often than other bathroom areas. This is due to toilets being the most germ-infested area in our homes. When a toilet is flushed, the water droplets that contain bacteria land all around. Prevent detrimental health effects by scrubbing your toilet two or three times a week.
How do I get my toilet bowl white again?
One of the most common problems you could encounter when cleaning your toilet is discoloration. The causes of toilet stains are usually limescale deposits due to hard water. Luckily, there is a simple way to remove grime and mineral deposits so your toilet sparkles afterward:
Baking soda

Sprinkle baking soda into the toilet.

Vinegar

Apply white vinegar over the baking soda.

Brush

Use a toilet brush to scrub the toilet.

Flush

Flush the toilet a couple of times to rinse.

Borax & lemon juice

Make a mixture of Borax and lemon juice. Rub the mixture onto the remaining dirt.

Let it sit

Leave it there for a few hours before you scrub and rinse.

Pumice stone

Use a wet pumice stone to remove any remaining staining.
The best way to steer clear of stubborn toilet stains is regular cleaning. Prevent limescale deposits and lasting staining from developing by scrubbing at your toilet a few times a week. You can routinely use the same type of cleaning agents as you would if there is visible staining: apply baking soda and white vinegar or a mix of Borax and lemon juice onto your toilet. On top of that, you can clean with a scouring gel.
Where do I find unparalleled house cleaning services in Lisle?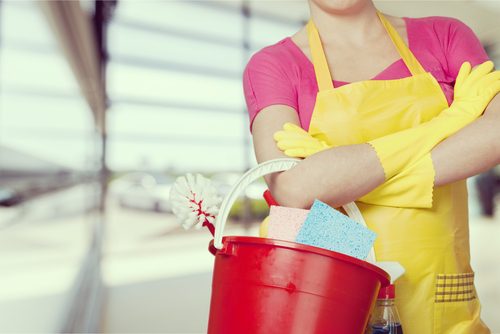 Are you at the end of your tether wondering how your curtains can stay clean, trying to get your bathroom sparkling, and worrying about house maintenance in general? Hiring the best professional cleaners in the business is a foolproof method to get a perfectly disinfected home. You can even get rid of limescale in your bathroom completely with the help of outstanding cleaning professionals.
At My Marvelous Maids, we'll match you with the most experienced cleaning pros around. They will combat every kind of mess with dedication and expertise. Let your expert cleaners take care of the chores you hate. While your bathroom is getting the royal treatment, you can spend quality time with your family at the Children's Garden or just put your feet up. You're just a call away from having the home of your dreams!